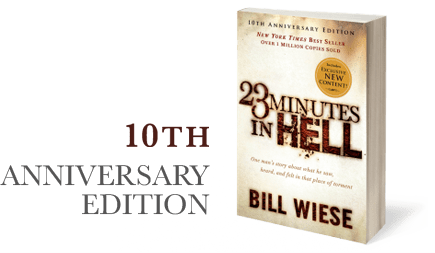 23 Minutes in Hell
"…Bill Wiese experienced the searing flames of hell, total isolation, a putrid, breathtaking stench, deafening screams of agony, terrorizing demons…"
Change a Life in 8 Minutes
Bill Wiese experienced the horrors of Hell first hand. Watch as he shares his life-changing experience from his book, 23 Minutes In Hell.
Do You Know Someone On The Wrong Road?
View Bill's Latest Teaching
Understanding Punishment

Understanding Punishment There are three types of punishment mentioned in the Bible, and some of our church leaders apply the wrong punishment in regard to hell. The three kinds are: Preventative – Meant to prevent others from doing the same wrong doing (1 Timothy 5:20). Redemptive – meaning to bring about improvement in the person…
Sign up to receive Bill's latest teachings, blog updates and ministry highlights today!
Free Product with Donation
Your gift helps us to change lives and win souls! Receive 23 Minutes In Hell as a thank you for your gift to Soul Choice Ministries.