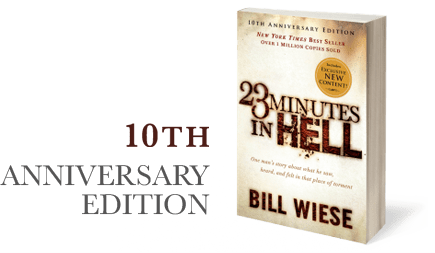 23 Minutes in Hell
"…Bill Wiese experienced the searing flames of hell, total isolation, a putrid, breathtaking stench, deafening screams of agony, terrorizing demons…"
Change a Life in 8 Minutes
Bill Wiese experienced the horrors of Hell first hand. Watch as he shares his life-changing experience from his book, 23 Minutes In Hell.
Do You Know Someone On The Wrong Road?
View Bill's Latest Teaching
Are All People A Child Of God?

Are All People A Child Of God? Many Christians and Pastors today believe we are all God's children. This is a common misconception. Everyone is God's creation, but everyone is not God's child. What does the Bible say in regard to this commonly expressed idea? Gal. 3:26 For ye are all the children of God…
Sign up to receive Bill's latest teachings, blog updates and ministry highlights today!
Free Product with Donation
Your gift helps us to change lives and win souls! Receive 23 Minutes In Hell as a thank you for your gift to Soul Choice Ministries.