How Can a Loving God Send People To Hell?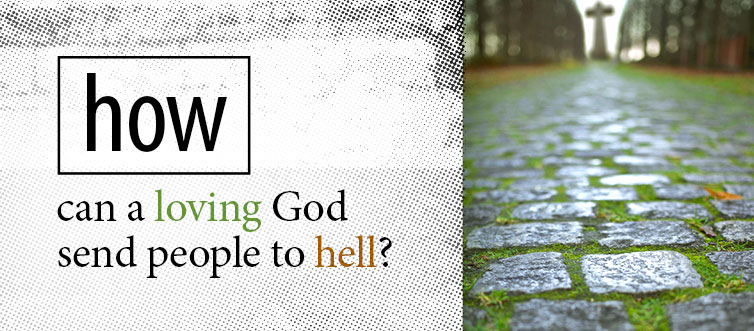 God is not sending anyone to hell. It's not His decision. We have a free will to believe or not to believe. John 3:36 states, "He who believes in the Son has everlasting life; and he who does not believe the Son shall not see life, but the wrath of God abides on him." Jesus said in John 14:6, "… I am the way, the truth, and the life. No one comes to the Father except through Me." He said He was the only way to Heaven. If a person says they don't believe His words, then there is a verse for them. Revelation 21:8 states, "the…unbelieving… shall have their part in the lake which burns with fire and brimstone…" So we can see why Jesus said in Matthew 12:37, "For by your words you will be justified, and by your words you will be condemned." Our own words send us to hell.
We need to understand that all of us (above the age of accountability) are already on the road to hell because we are born in sin (Ps.51:1-5; Rom.3:23; Gal.3:22). That is different than being sent there. John 3:18 states that we are already condemned to hell. The reason Jesus came was to take us off that road (John 6:40; 12:47). He died in our place (1Tim.1:15; 1Tim.2:4-6). If we would trust in the cross and what He did for us, then our trust in Him is considered as righteousness (Rom.5:8; 2Cor.5:21; Eph.2:8-9; Tit.3:5). It is as if we never sinned because He took our sins upon Himself and shed His blood for us (Heb.9:22).
Before we accuse God of being mean for sending people to hell, we might want to realize that this is the same God who suffered a horrendous death for us on the cross. He did this so we wouldn't have to go to hell. It is our choice. If we go there, it is our own fault. He loves us and gives us every opportunity to repent of our sin and receive Jesus as our Lord and Savior (Rom.10:9-10; Luke13:3). It is our decision.

© Copyright 2007-2022 Soul Choice Ministries – All Rights Reserved
By Bill Wiese, author of 23 Minutes in Hell