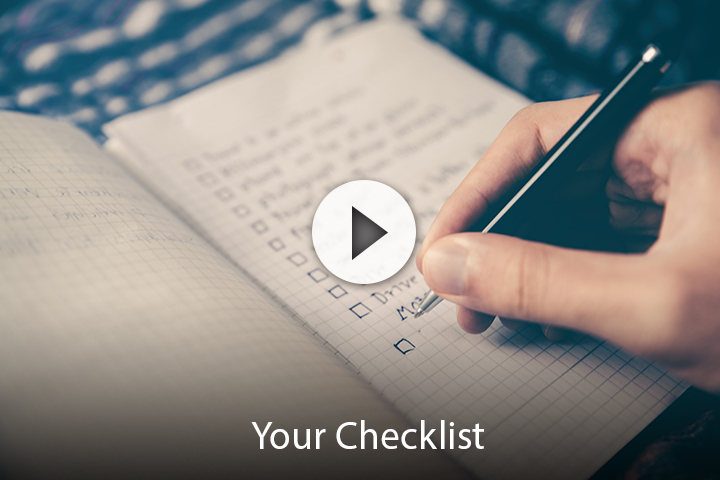 Your Checklist
The Bible gives us many verses that instruct us how to avoid life's problems, and also help us through the storms we all encounter. It's a sort of spiritual checklist to compare our life choices against. So many people are totally unaware of these benefits. They also don't realize the things they might be doing that can bring them harm.
The Bible instructs us to first examine ourselves:
Lamentations 3:40, Let us search and try our ways
Haggai 1:7, Thus saith the Lord of hosts; Consider your ways.
1 Corinthians 11:28, But let a man examine himself…
2 Corinthians 13:5, Examine yourselves, whether ye be in the faith; prove your own selves.
Everything we receive from God is by His grace. We cannot earn anything. However, searching the scriptures to be sure we are obeying them, doesn't nullify grace. Obeying His Word is a result of grace. His grace empowers us to do just that; keep His Word. These verses should open our eyes to see what we might be missing. As you read through this checklist, ask yourself, "Does this apply to me? Am I doing this?"
Ephesians 6:2-3, Honor thy father and thy mother…that it may be well with thee, and that thou may live long on the earth.
1 Peter 3:7, Giving Honor to your wife…that your prayers be not hindered.
Proverbs 28:27, He that giveth to the poor shall not lack.
Proverbs 22:26, Be not thou one that are sureties for debt (Don't co-sign.)
Proverbs 24:17, Rejoice not when thine enemy falleth…
1 Thessalonians 5:22, Abstain from all appearance of evil.
Proverbs 13:18, Poverty shall be to him who refuses instruction.
Proverbs 11:1, A false balance is an abomination to the Lord.
Proverbs 28:22, Do not make haste to be rich, poverty will come upon you.
Psalm 107:20, Fools, because of their transgressions and their iniquities are afflicted. (We are foolish by sinning, and thereby invite afflictions.)
Jeremiah 5:25, Your sins have withheld good things from you. (A reason we might not be receiving the things we pray for is because of a sin we haven't repented of.
Proverbs 28:13, He that covereth his sins shall not prosper.
Psalm 66:18, If I regard iniquity in my heart, the Lord will not hear me.
Proverbs 3:21, The drunkard and the glutton shall come to poverty.
Psalm 37:21, The wicked borrows and pays not again.
Proverbs 28:19, He that tilleth his ground shall have plenty of bread.
Proverbs 13:11, He that gathers by labor shall increase.
Proverbs 10:4, He becomes poor that deals with a slack hand, but the hand of the diligent maketh rich.
2 Thessalonians 3:10, If any would not work, neither should he eat.
Deuteronomy 23:19, No usury to a brother.
Psalm 122:6, Pray for the peace of Jerusalem: they shall prosper that love thee.
Isaiah 66:10-14, Rejoice with Jerusalem…and your bones shall flourish.
Psalm 34:9, For there is no want to them that fear him.
James 4:7, Submit yourself…to God, resist the devil and he will flee from you. (Are we submitted?)
1 Corinthians 16:14, Do not even discuss what evil people do…
Psalm 66: 13, I will pay thee my vows, which my lips have uttered and my mouth has spoken when I was in trouble.
Health related verses:
Proverbs 3:7-8, Fear the Lord and depart from evil. It shall be health to thy navel, and marrow to thy bones.
Proverbs 11:17, The merciful man doeth good to his own soul: but he that is cruel troubles his own flesh.
Proverbs 14:30, Envy the rottenness of the bones.
Proverbs 18:8, The words of a talebearer are wounds, they go down to the inner most part of the belly.
Proverbs 7:22-23, Seeing the harlot, till a dart sticks through his liver (Liver problems.)
Proverbs 13:17, A faithful Ambassador is health.
Job17:5, He that speaks flattery to his friends, even the eyes of his children shall fail.
Proverbs 15:27, He that is greedy of gain troubles his own house.
This list is simply provided for us to compare our lives to. Is there someplace we can identify as a problem area? If the answer is yes, we must choose to obey God's Word. We also should be aware that we have an enemy who is looking for entrance into our lives. As Christians, we are in a spiritual war. We may suffer some wounds. We have a hedge about us, but as Ecclesiastes 10:8 says, whoever breaks a hedge, a serpent will bite. We can open our own hedge by our disobedience, or our ignorance of God's Word. We will all encounter the storms of life, but if we obey God's Word as Jesus said in Matthew chapter 7, we will arise victoriously through the storm. It is not in our strength that we do this, but in His.
© Copyright 2007-2021 Soul Choice Ministries – All Rights Reserved
By Bill Wiese, author of 23 Minutes in Hell