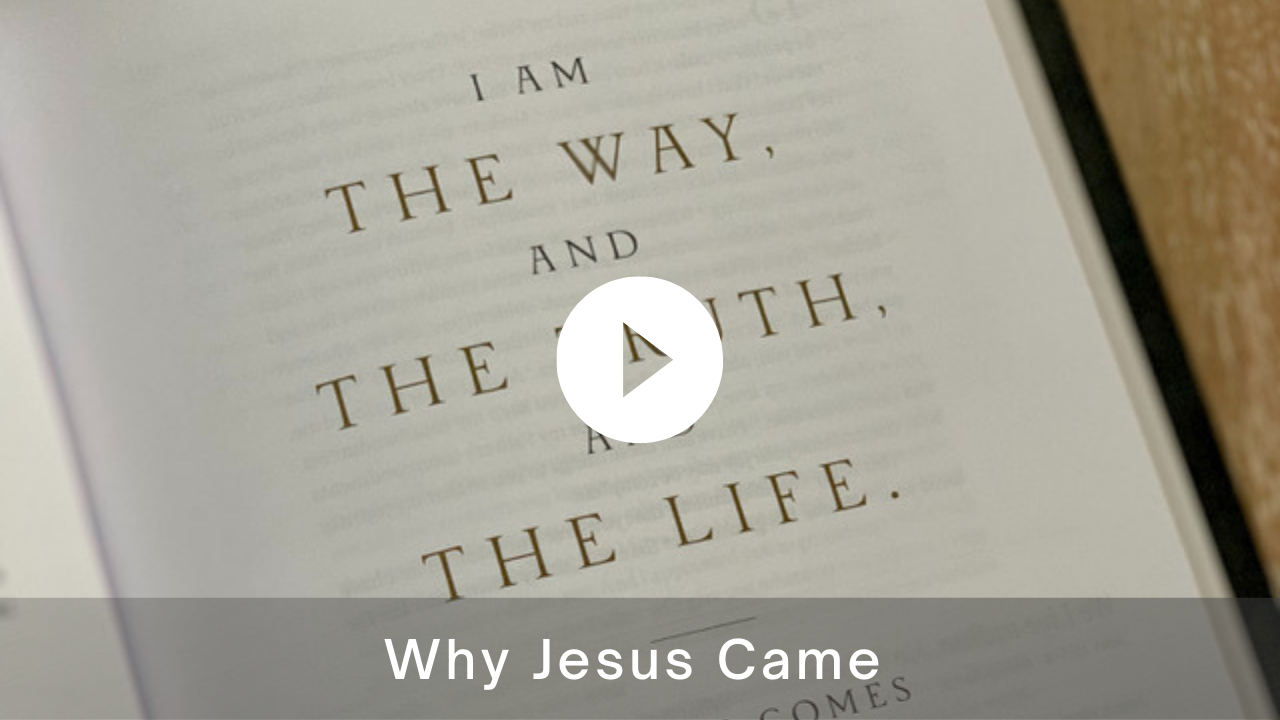 For many, the Christmas season is a time to put up a tree, hang lights on the house, shop for gifts and be with family. All of these festivities are enjoyable traditions that surround the Christmas season, especially time with family and friends.
The problem is that we overlook the most important reason to celebrate Christmas. This season is a time to rejoice, knowing that Jesus came to the earth to redeem us from our sins! What a wonderful reason to celebrate Christmas! If Jesus had not come to save us, we would be without hope, without purpose, and without the presence of the loving Savior in our lives. We would be lost for all eternity in a place completely absent of the kindness and mercy of God. We would be doomed to a dark, lifeless, terrifying existence in hell.
Yet so many people live day after day without even realizing their deep need for the Savior. They usher in the Christmas season and all of its traditions, just to resume the routines of life, never embracing what Christmas truly meant. If only all people really understood why Jesus came to earth. He came:
To die for our sins
To restore our relationship with Him
To save us from an eternal hell
To give us authority over the demonic realm
To give us the Holy Spirit and gifts of the Spirit
To show us how much He loved us
To take us to heaven
Let's look at three of those reasons. The first is that Jesus came to die for our sins.
Romans 5:8 "But God commendeth his love toward us, in that, while we were yet sinners, Christ died for us."
1 Timothy 1:15 "Christ Jesus came into the world to save sinners."
1 Timothy 2:6 "Who gave himself a ransom for all."
Jesus came because we are all born in sin, and our sin separates us from God.
Psalms 51: 2-3 David said, "Wash me thoroughly from my iniquity, And cleanse me from my sin. For I acknowledge my transgressions, and my sin is always before me."
John 8:24 Jesus said, "Therefore I said to you that you will die in your sins; for if you do not believe that I am He, you will die in your sins."
John 8:21 Then Jesus said again to the Pharisees, "I am going away, and you will seek Me, and will die in your sins. Where I go you cannot come."
These verses tell us that if we do not believe Jesus is the Son of God we will die in our sins, and if we die in our sins we cannot go to heaven.
Romans 6:23 says, "For the wages of sin is death; but the gift of God is eternal life through Jesus Christ our Lord."
Because God is just He must punish sin. However, since He loves us He sent Jesus to take our punishment.
Jesus died for our sins and rose from the dead. If we would trust in Christ's death on the cross, then God would consider our trust as if we were righteous. It would be as if we never sinned.
2 Corinthians 5:21 "For He made Him who knew no sin to be sin for us, that we might become the righteousness of God in Him."
The second reason is that Jesus died in our place to save us from an eternal hell.
Death does not mean, "cease to exist." It means to be separated from God. If we are separated from God, then we are separated from all good, because all good comes only from God as James 1:17 states. When God is removed, hell is the result.
We were made eternal beings, so our spirit and soul will live on forever…in one place or the other. Hell was not prepared for man, but for the devil. However, if man denies the only way to heaven, then there is only one other place prepared for him to go.
Matthew 25:46 Jesus said, "And these will go away into everlasting punishment, but the righteous into eternal life." Same word is used, everlasting. Just as heaven is everlasting, so is hell."
Matthew 13:48-50 Jesus said, "So shall it be at the end of the world: the angels shall come forth, and sever the wicked from among the just, And shall cast them into the furnace of fire: there shall be wailing and gnashing of teeth."
Matthew 18:8-9 Jesus said, "Cast them into everlasting fire…into hell fire."
Jesus mentioned hell 46 times in the Bible to warn us about this place of torment. If we ignore His warnings, we will suffer the consequences.
The third important reason Jesus came to the earth is to take us to heaven.
John 14:2 Jesus said, I go to prepare a place for you. And if I go and prepare a place for you, I will come again, and receive you unto myself; that where I am, there ye may be also.
Revelation 22:14 Blessed are they that do his commandments, that they may have right to the tree of life, and may enter in through the gates into the city.
Matthew 5:3 Jesus said, Blessed are the poor in spirit (the humble): for theirs is the kingdom of heaven.
Heaven is a perfect place, with no pain, no evil, no aging, no lack, no stress, and no death. The most exceptional part of heaven is that we have the privilege of being with Jesus! If people could get just a glimpse of hell, they would view Christmas in a completely different light. They would be so grateful if they fully understood what Jesus has done for us.
The most important question we could ever ask ourselves is what Jesus asked His disciples in Matthew 16:15… "But who do you say that I am?
How we answer this question will determine where we spend our eternity. The wrong answer has horrendous, eternal consequences.
Peter answered, "You are the Christ, the Son of the living God."
What say you?
© Copyright 2007-2021 Soul Choice Ministries – All Rights Reserved
By Bill Wiese, author of 23 Minutes in Hell