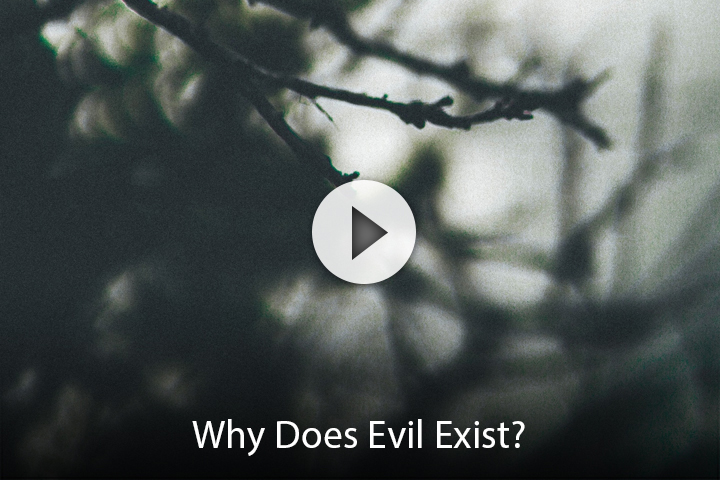 Why Does Evil Exist?
There are quite a few people who believe that God is the one responsible for all of the evil that occurs on the earth and in their own lives. However, this is simply not the case. God is good and He wants us to live in health, benefit from His protection, and be prosperous.
3 John 2 says, "Beloved, I wish above all things that you may prosper, and be in health, even as your soul prospers."
That verse was written by one of the Apostles closest to Jesus. This is God's will for our lives. So where does evil and disaster and illness come from then?
These next verses show us the truth about where evil on earth comes from:
John 10:10, The thief cometh to steal, and to kill, and to destroy: I am come that they might have life…more abundantly.
1 John 3:8, For this purpose was the Son of God manifested, that he might destroy the works of the devil.
Luke 13:16, And ought not this woman, being a daughter of Abraham, whom Satan hath bound, lo, these eighteen years, be loosed from this bond on the Sabbath day?
Ephesians, 4:27, nor give place to the devil (in our lives).
James 4:7 Submit to God, resist the devil and he will flee from you.
1 Peter 5:8, Be sober, be vigilant; because your adversary the devil walks about like a roaring lion, seeking whom he may devour. Whom resist steadfast in the faith.
There are at least six reasons why evil occurs:
1. 2 Corinthians 4:4, Satan is the god of this world.
2. Galatians 6:7, Law of sowing and reaping.
3. Romans 8:2, Law of sin and death (Romans 6:23).
4. Deuteronomy 28, Curse of the law.
5. Matthew 7:11, Men are evil and cause harm.
6. Isaiah 24:5, Earth itself rebels because of sin.
The Bible clearly states that the earth rebels against sin:
Jeremiah 23:10-10, The land is full of adulterers…because of the curse of God upon it, the land mourneth… the pleasant places of the wilderness are dried up (for because of swearing the land mourneth).
Isaiah 24:5-6, The earth also is defiled under the inhabitants thereof; because they have transgressed the laws…therefore hath the curse devoured the earth.
Isaiah 33:9, The earth mourneth and languisheth:
Psalm 67:5-6, Let the people praise thee…Then shall the earth yield her increase.
Psalm 68:6, The rebellious dwell in a dry land.
1 Chronicles 16:30, Fear before him, all the earth: the world also shall be stable, that it be not moved.
Proverbs 13:21, Evil pursueth sinners.
Psalm 140:11, Evil shall hunt the violent man to overthrow him.
Leviticus 18:25, The land itself vomiteth out her inhabitants.
Leviticus 18:28, That the land spew not you out also, when ye defile it.
Deuteronomy 31:17, Then my anger shall be kindled against them in that day, and I will forsake them, and I will hide my face from them, and they shall be devoured, and many evils and troubles shall befall them; so that they will say in that day, Are not these evils come upon us, because our God is not among us?
Psalm 64:5-6, 8, They encourage themselves in an evil matter…They search out iniquities…So they shall make their own tongue to fall upon themselves.
2 Chronicles 6:26-27, 31, When the heaven is shut up, and there is no rain, because they have sinned…confess thy name confess thy name…when thou hast taught them the good way, wherein they should walk; and send rain upon thy land…That they may fear thee.
We have authority!
Luke 10:19, Behold, I give unto you power to tread on serpents and scorpions, and over all the power of the enemy: and nothing by any means shall hurt you.
Mark 16:17-18, And these signs will follow those who believe: In My name they will cast out demons…
Recognize where the evil really comes from and stop blaming God! Evil is never His fault. It usually stems from our own wrong or bad decisions. We have an enemy who wants to kill us, steal from us, and destroy our lives. He wants to inflict us with sickness and poverty, and deceive us. Don't be ignorant of his devices. Resist him and submit yourself to God and to His Word.
© Copyright 2007-2022 Soul Choice Ministries – All Rights Reserved
By Bill Wiese, author of 23 Minutes in Hell