What Does It Mean To Choose?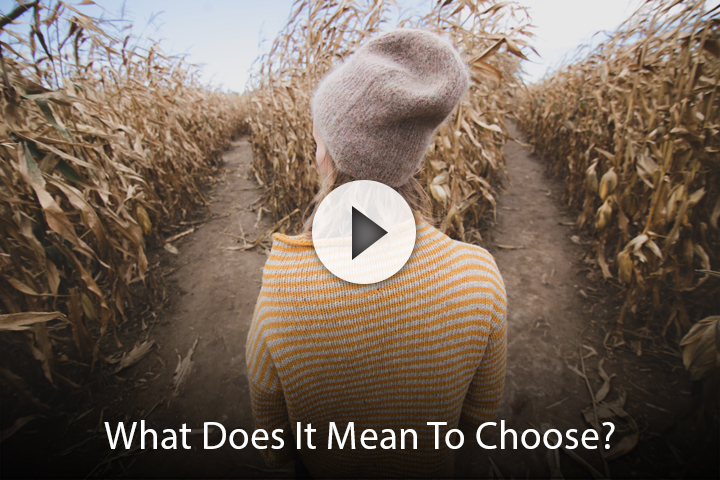 What Does It Mean To Choose?
Some Christians are fearful of going to hell. They are afraid because they are still tempted with sin, or are continually falling back into sin. First of all, if we are truly born again then we will have a desire to stop sinning, and a desire to please God. If we have no desire to obey Him, then a person is most likely not saved. 1 John 2:4 says, "He that says, I know him, and keeps not his commandments, is a liar, and the truth is not in him." We cannot earn our salvation in any way. Our obedience doesn't save us, but it is evidence we are saved.
Jesus said in Mark 9:47, "If thine eye offend thee, pluck it out: it is better for thee to enter into the kingdom of God with one eye, than having two eyes to be cast into hell fire: where their worm dieth not, and the fire is not quenched." The word, "offend," means, "causes you to sin." In other words, if we are habitually practicing a lifestyle of sin, we are in danger of hell fire.
Romans 6:12 says, "Let not sin reign in your mortal body." Then in verse 14, "For sin shall NOT have dominion over you." Notice, we are the ones who should not allow sin to reign. We are to cast down every evil imagination (2 Cor. 10:5).
In Psalm 119:11 David said, "Thy word have I hid in mine heart, that I might not sin against thee." It is a matter of renewing our mind to think like God thinks, to love what God loves, and to hate what He hates. Our relationships should positively influence us towards God, not away from Him.
If a Christian has a pattern of struggling with a particular sin, then perhaps they should ask themselves these questions: "Am I driven to commit this act? Have I opened the door to a demonic spirit by allowing something ungodly into my eyes and ears?" They must repent, renounce Satan and his works, AND remove any demonic books, movies, or occult objects or artifacts from their home.
Some people keep focusing on their past sins. They feel inadequate, and believe that God is angry with them. However, when we repent of our sins (Luke 13:3; 1 John 1:9), God forgives us and doesn't remember our sins anymore (Hebrews 8:12 and 10:17). Psalm 103:12 says, "As far as the east is from the west, so far has he removed our transgressions from us." We are new creatures in Christ and old things are passed away (2 Corinthians 5:17). God sees us through the blood of Jesus. As a believer, our heart will condemn us when we sin. However, 1 John 1:9 tells us to repent and ask forgiveness, and the Lord cleanses us from all unrighteousness.
Start looking ahead and press into the things of God, as Philippians 3:14 says. Do not look back.
Let's examine our priorities. Are we talking and listening to the Holy Spirit throughout our day? What are we willing to sacrifice? Will we exchange an hour or two of our own pursuits for an hour or two of prayer and study? Are we trying to live under God's law instead of exercising faith in God's grace to overcome sin? Hebrews 12:28 says, "Let us have grace that we may serve God acceptably with reverence and godly fear.
Life is full of choices. Deuteronomy 30:19 says, "I have set before you life and death, blessing and cursing, therefore choose life."
What will you choose?
© Copyright 2007-2020 Soul Choice Ministries – All Rights Reserved
By Bill Wiese, author of 23 Minutes in Hell