Three Things God Can't Do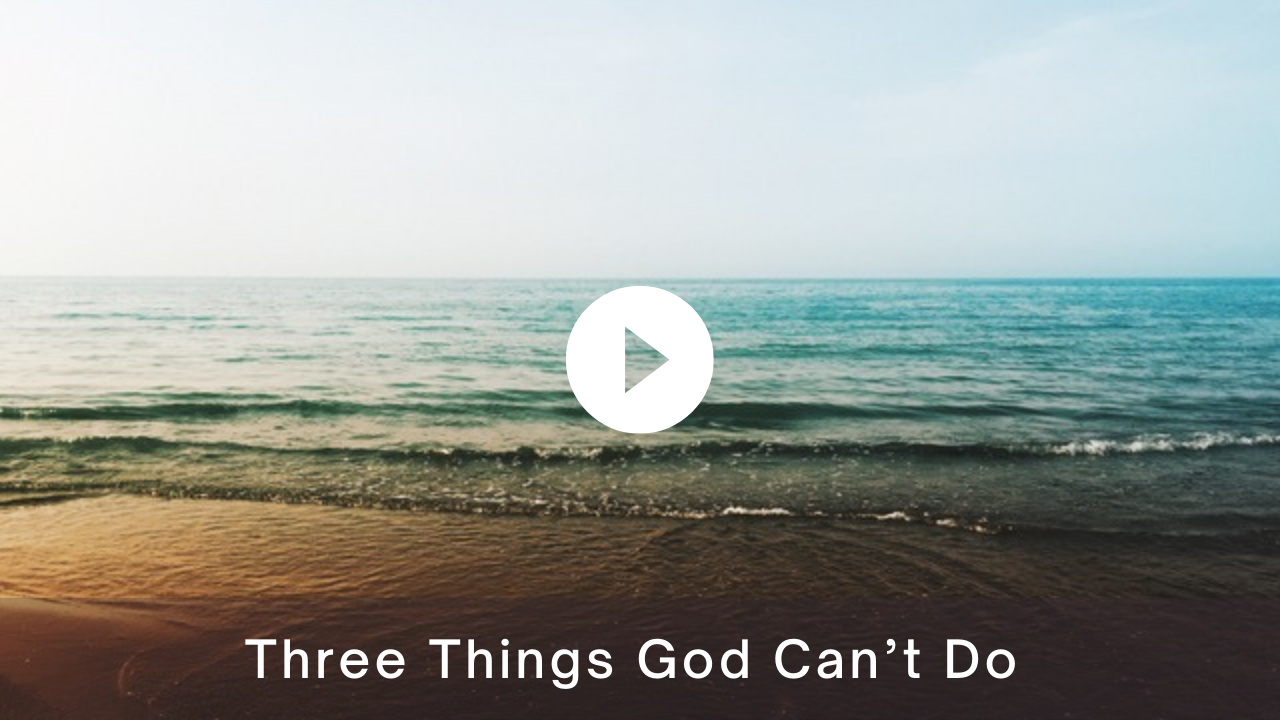 Most people will be surprised, and maybe even gasp at that statement. You mean there are some things God can't do? Yes, it's true. He can do anything, except for these three things:
First, God cannot lie. Eight times the scripture says that the Almighty God cannot lie. Here are just a few verses:
Titus 1:2 In hope of eternal life, which God that cannot lie, promised before the world began.
Hebrews 6:18 It was impossible for God to lie…
Numbers 23:19 God is not a man, that he should lie.
It is a good thing He can't lie because we can always depend on His Word.
Psalm 89:34 My covenant will I not break, nor alter the thing that is gone out of my mouth.
Psalm 119:89 Forever, O Lord, thy word is settled in heaven.
He will always perform what He has said. We can trust His Word.
Second, He cannot learn.
Eighteen times, the scripture says, He knows all things. You see, if He had to learn, this would imply He doesn't know something. The scripture says He knows every action, every thought, every motive, every sparrow that falls to the ground, and every hair on our head. He is all-powerful. He is everywhere at the same time, and He is all knowing. He is the One and only Almighty God.
Here are just four of those eighteen verses:
Psalm 44:21 For He knows the secrets of the heart
Psalm 139:2 Thou knowest my downsitting and mine uprising, you understandest my thought afar off
Psalm 90:8 Our secret sins are in the light of thy countenance
Job 34:21 For His eyes are on the ways of man, And He sees all his steps.
Third, He cannot force you to love Him. Real love has to allow a choice. To force someone would not be an act of love. It is not that God possesses love, but that He is love (1 John 4:16). Thank God He is love, since He has all power.
1 Corinthians 13:4 Love is patient and kind. Love is not jealous or boastful or proud.
Romans 2:4 Don't you see how wonderfully kind, tolerant, and patient God is with you? Does this mean nothing to you? Can't you see that his kindness is intended to turn you from your sin? We see how long suffering and patient God is with everyone, even with those who don't know him.
Revelation 1:5 Unto him that loved us, and washed us from our sins in his own blood.
Romans 5:8But God commendeth his love toward us, in that, while we were yet sinners, Christ died for us.
Ephesians 2:4-5But God, who is rich in mercy, for his great love wherewith he loved us, even when we were dead in sins.
God's love for us passes knowledge as Ephesians 3:19 states.
It is at first surprising to us that there is something God cannot do yet we see in regard to His love, He will never force Himself on anyone. He will not overpower a person's own will should they choose to reject Him and send themselves to hell. He has given us a free will, but with that free will comes accountability for our decisions.
Copyright 2007-2022 Soul Choice Ministries – All Rights Reserved
By Bill Wiese, author of 23 Minutes in Hell