The Impact of Faithfulness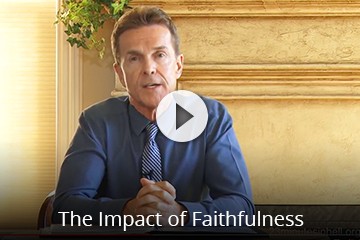 During my real estate career, there was a realtor who sold homes in the same community as I. She was my competition and she made it clear that she didn't like me, or any Christians. After a time, her husband died. She was an elderly woman by then so I decided to stop by her house one day and see how she was doing. I wanted to offer my help with anything she might need around her home. She answered her door and said, "I don't need your help. Leave me alone," and slammed the door shut.
I felt compelled to go back the following week. I went back to her and said, "I'd just like to offer my help. I'm in the neighborhood if you need anything." She again stated, "I don't need your help" and again, slammed the door.
I kept feeling in my heart to go by every week and check on her. After about a month, she finally said, "Actually, I do need a little help," and she opened the door to me. I felt like God had told me to keep doing this. I felt a compassion for her. I went by every week for seven years because God led my heart to go. I was happy to go.
One day she asked, "Bill, why do you come by every week?" I said, "You had a husband once, and now God wants to be your husband. He's showing you love through me because He loves you dearly. That's all." She was a guarded woman but a tear came down her face as she began to soften. I said, "I've never talked to you about Christianity. Would you like to hear about it?" She said, "Bill, I really would. I would like to hear what you have to say. You've shown such kindness and love to me all these years."
I then told her all about the Lord. She wept as the accepted Jesus Christ as her Savior. She was so excited and so happy.
Later she said, "I'm getting too old to live in this two story home. I'd like you to sell it and find me a one story." I said, "But you're a realtor. You don't need me to sell your home for you." She replied, "I've watched you. God blesses what you do and helps sell your homes for you. I believe you could get more for my house than I could." She listed and sold her home with me. I found her another home to live in which resulted in two home sales for me, but more importantly, she got saved!
Jeremiah 15:11 says, "I will cause thy enemy to entreat thee well."
She was my competition, but she treated me as an enemy. God moved on her heart after I showed her love and kindness. Luke 16:10 says, "He that is faithful in that which is least is faithful also in much."
God has given us all something to do. Will you trust God and be faithful to do what He's called you to do?
© Copyright 2007-2019 Soul Choice Ministries – All Rights Reserved
By Bill Wiese, author of 23 Minutes in Hell