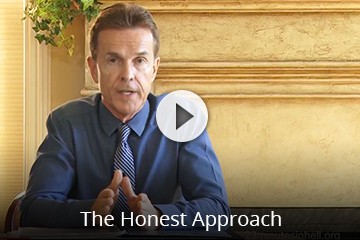 I want to share a personal story about being humble and honest in business. During my real estate career, I received a call from a large corporation asking me to list 26 condos. I went to see the properties and during the interview, they mentioned that they would expect a very costly advertising and promotions budget. They indicated that they were also interviewing another agency to list the properties. I knew the other agency well, and knew that they had the kind of financial backing to handle the needs of this company. I had my own company but I was just a single individual. I didn't have the kind of cash flow required for such a large marketing project.
I was honest and told them, "I know the neighborhood well. I've sold those properties in the past but I have to be honest with you." I said, "I just don't have the kind of budget that you require. I don't have that kind of money. You would probably be better off going with the other agency you plan to interview. I know who they are and they have the money."
After I shared this, the hiring agent said, "Bill, we are looking for someone we can trust. We are looking for someone who will tell us honestly how to price the condos and will not misrepresent us. Because you told me this, I know you are being honest. I'd rather have the honesty than the money. We can provide the money for the advertising. We would like to hire you to list the condos."
I listed the 26 condos and sold them all. The corporation provided all of the money for the advertising just because I chose to be honest with them. When we are honest with people, it goes a long way in showing humility. I encourage you to always be honest with everyone and God will be sure to bless you for it.
Proverbs 22:4 says, "By humility and fear of the Lord, are riches and honor and life."
Excerpt from Bill's book, Recession Proof Living
© Copyright 2007-2019 Soul Choice Ministries – All Rights Reserved
By Bill Wiese, author of 23 Minutes in Hell