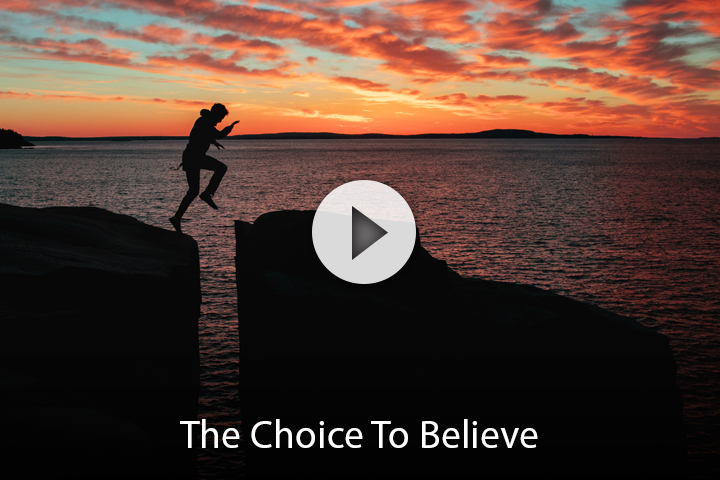 The Choice to Believe
How do we possess real peace and joy despite the very challenging circumstances we may have experienced this year?
Rom. 15:13 says, "Now may the God of hope fill you with all joy and peace in believing, that you may abound in hope by the power of the Holy Spirit."
Did you notice God fills us with joy and peace when we are believing. It doesn't happen any other way. Saying "I just can't believe" is not a true statement. We choose to believe. We must make a deliberate choice to trust in Jesus Christ for forgiveness and our salvation. His gift of salvation to us extends beyond just forgiveness and includes our protection, provision, healing, and deliverance when we believe His promises.
Without Jesus Christ the Bible says we are without hope in this world. A person may trust in his money, his job, his influence, his family or friends but these things are not secure nor do they bring us real peace. They are blessings from God, but they are not the source of real hope, peace and joy. If we don't know the Lord, our life is built on sand. When the storms of life come, these things will not save us. When we are on our deathbed, or die without warning, nothing but trust in Jesus Christ will save us from an eternity in hell.
The Bible tells us we have a sin nature and all of us have sinned. The Bible says that the wages of sin is death. Our sin is what separates us from God in this life and for all eternity. Because God loves us He sent Jesus, His only Son, to pay the price for the things we have done wrong. Jesus was born to become the provision for our sin. He died a horrific death on the Cross, was buried, and rose again. We have the choice to turn away from sin, ask Him to forgive us, and receive Him as our Lord and Savior. It doesn't matter what we've done or how we have failed. His forgiveness is available to us all.
If you want to receive Jesus Christ and experience real peace, say this prayer from your heart:
Dear God in heaven, I know that I have sinned and I cannot save myself. Please forgive me of my sin. I believe Jesus died on the Cross for me and He rose from the dead. I ask you Lord Jesus to come into my heart. I receive you as my Lord and Savior. Fill me with your Holy Spirit.
In Jesus name I pray, Amen.
© Copyright 2007-2020 Soul Choice Ministries – All Rights Reserved
By Bill Wiese, author of 23 Minutes in Hell