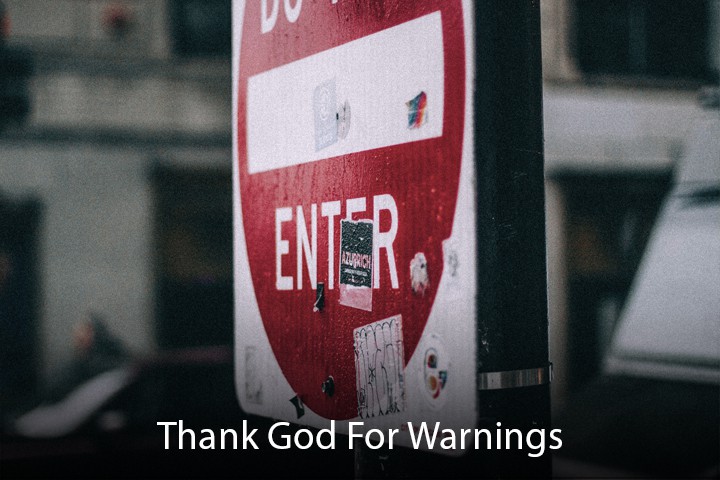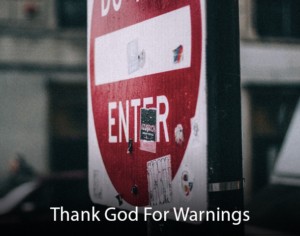 Too often we look at the warnings of God as cause for fear. We may even resent God's Word for limiting us or making us feel judged. For instance, many people resent the notion that God warns man about hell. They see it as a threat to their personal beliefs and sense of security. However, to warn someone of impending danger is a message of love (Col. 1:28). What lies ahead in the afterlife for those who haven't repented (Luke 13:3) should scare any rational person (Jude 23). The wisest man who ever lived, besides Jesus, was King Solomon. He said in Proverbs 27:12: "A prudent man foresees evil and hides himself; the simple pass on and are punished." In Matthew 10:28 Jesus said, "Fear Him who is able to destroy both soul and body in hell."
When Hurricane Ike hit Texas, the headline of a local newspaper read: "Certain Death to Those Who Do Not Vacate." Would you say the writers of that article were "mean" or using "scare tactics" for issuing the warning? No, you would be grateful. In the same way, God is giving us fair warning. You can heed His warning and live, or ignore it and die (Deut. 30:19; Matt. 23:33, 37-28; John 15:6; Col. 1:28).
We encounter dozens of warnings every single day. If a bridge is out, we expect numerous signs in advance warning us of the danger. There is a warning in bold print to acknowledge the rights we may forfeit when we sign a contract. There is a list of possible side effects provided when we take medication and even a paper coffee cup lid warns us that the coffee is hot! Ironically, while society at large finds biblical warnings offensive, they have come to expect or even demand warnings for things that pale in comparison to eternity.
Likewise, there are hundreds of warnings throughout the Scriptures given to protect, preserve and instruct us. God warns people through His Word, through His prophets, through dreams, and through visions. They are given because of God's great love and mercy.
Consider these verses:
Psalm 19:11 – Moreover by them (God's commandments, judgments) Your servant is warned, And in keeping them there is great reward.
Matthew 3:7 – …Who warned you to flee from the wrath to come?
Acts 20:31 – …remember that for three years I did not cease to warn everyone night and day with tears.
1 Corinthians 4:14 – I do not write these things to shame you, but as my beloved children I warn you.
1 Thessalonians 5:14 – Now we exhort you, brethren, warn those who are unruly, comfort the fainthearted, uphold the weak, be patient with all.
Hebrews 11:7 – By faith Noah, being divinely warned of things not yet seen, moved with godly fear, prepared an ark for the saving of his household…
In His goodness, God always gives man time to repent and heed his warning. His long-suffering is so evident in this verse:
Don't you see how wonderfully kind, tolerant, and patient God is with you? Does this mean nothing to you? Can't you see that his kindness is intended to turn you from your sin? But because you are stubborn and refuse to turn from your sin, you are storing up terrible punishment for yourself. For a day of anger is coming, when God's righteous judgment will be revealed. – Romans 2:4-5

What would it look like if we assumed a posture of thankfulness for the warnings from God? How has God spared us from loss or harm? What have God's restrictions saved us from? Consider the safety and protection God provides when we heed His Word and trust in His ways. Thank God for His warnings.
© Copyright 2007-2019 Soul Choice Ministries – All Rights Reserved
By Bill Wiese, author of 23 Minutes in Hell