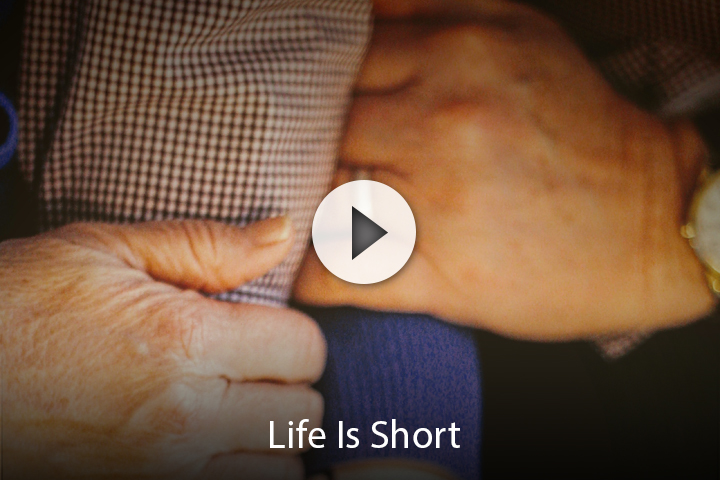 Life Is Short
It's usually said that a person should never talk about death, religion, or politics. Nothing could be further from the truth especially when it comes to the topic of life after death! People need to talk about where they might spend their eternity. None of us are going to get out of this thing alive, unless we are in the rapture.
The most important decision in life is our eternal destiny. Why do so many people avoid discussing where they will go after they die? Most form their own opinions based on their feelings. They have no facts, have never investigated, and have never humbled themselves before God and asked Him to show them the way to eternal life. Therefore, they have no way of making an informed decision.
We know that life is short, and it can end in a moment.
The Bible says in James 4:14 that life is but a vapor.
Isaiah 40:8, Surely the people are grass. The grass withers, the flower fades, but the word of our God stands forever.
Isaiah 64:6, But we are all like an unclean thing, and all our righteousness is like filthy rags; We all fade as a leaf, And our iniquities, like the wind, Have taken us away.
Isaiah 40:24, When He will also blow on them, and they will wither, and the whirlwind will take them away like stubble.
Psalm 102:3, For my days are consumed like smoke
Psalm 37:2, For they shall soon be cut down like the grass, and wither as the green herb
1 Peter 1:24, All flesh is as grass, and all the glory of man as the flower of the grass. The grass withers, and its flower falls away
Human beings fade away quickly, but what God said lasts forever. Jesus said we are eternal beings, made in God's image, and there are only two destinations for us after we die: heaven or hell. We have been given the privilege of choosing where we will spend our eternity. If you don't believe His words you will end up in an eternal hell. Jesus said that we must repent of our sins, and believe and trust in Him. He said this is the only way to heaven. You would be calling Jesus a liar if you rejected this truth. And this is because you based life's most important decision on your feelings, or your own opinion.
Have you ever tried to talk to someone about eternity? It's amazing how many won't even look at a scripture. I've appeared on dozens of secular radio programs and have been cut off the air for sharing just one bible verse. I met a woman with terminal cancer who berated me for talking to her about Jesus. Don't you wonder why their heart is so hardened against God? Jesus is the only one who loves them, died for them, and rose from the dead so they could spend eternity with Him.
It's clear when it comes to spiritual things, that it doesn't matter how high your IQ is. It doesn't matter how much money, fame or authority you have, or if you are deemed successful by the world's standard. You could be a billionaire headed for hell. It is man's hard heart and arrogance that send him to an eternal hell, not God.
When we're young we think life will go on forever. When we get older we understand how fast life goes by. Life really is but a vapor. Life is very, very short compared to eternity. I urge you to make an informed decision about the after life while you have the opportunity.
© Copyright 2007-2021 Soul Choice Ministries – All Rights Reserved
By Bill Wiese, author of 23 Minutes in Hell