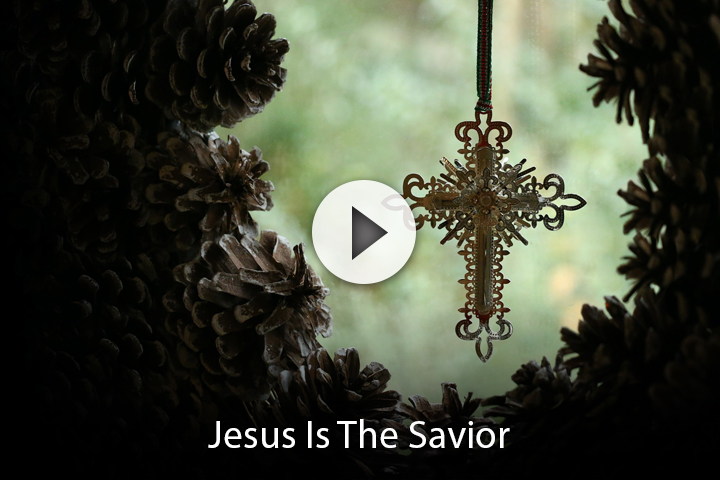 Jesus Is The Savior
We celebrate Christmas each year, but many people don't acknowledge the Savior of all mankind, Jesus Christ! They happily acknowledge the holiday, but not the One whom it's all about!
The decision to repent of our sins and receive Jesus as our Lord and Savior is a precious gift that so many just brush off as insignificant.
Jesus said in Mark 8:36, For what shall it profit a man if he should gain the whole world, and lose his own soul?
He said in John 8:24, If ye believe not that I am he [the Savior], ye shall die in your sins
1 Tim. 2:5 says, There is one God and one mediator between God and men, the man Christ Jesus.
Since Hell is a place that's horrific and eternal, this decision is not one to be shunned. A non-decision for Christ is in fact a decision to reject him. Jesus said in Luke 11:23, He that is not with me is against me.
Some say Jesus never said He was the Son of God. However, Jesus himself said He was the Son of God in at least 24 verses.
In John 10:36, Jesus said, I Am the Son of God.
In the book of Hosea chapter 13:4, God said, for there is no savior besides me.
Isaiah 45:21 says, there is no God else beside me…there is none beside me…for I am God and there is none else.
He said that there is no other God seven times in that chapter alone. I think He was making a point.
You might say, Well, I'm not a religious person.
Jesus was the most non-religious person who ever lived. Religion is man-made, dictating rules and requirements in order for a person to enter heaven. Christianity is a free gift of salvation to all who will trust in what Jesus did for us on the cross. Because of His sacrifice, we can know that we will enter heaven. It is a personal relationship with your Creator.
You might ask, Why should I believe in Jesus? There are at least seven main points that distinguish Jesus from every other religious leader.
He claimed to be God, as that He is the only way of salvation. John 10:30, 36; 11:25; 17:22
He claimed that repentance of sins and belief in Him only led to eternal life, as Luke 13:3; 24:47 and John 14:6 states.
He taught that He would need to suffer and die for our sins and be resurrected from the dead, as Luke 9:22 states, and that it was central to His mission (Luke 9:56)
He taught that only two eternal destinations exist, heaven and hell (Matt. 13:40; 25:46; John 5:29)
He taught that an eternal hell awaits all who reject Him (Matt. 13:40-42; 18:8-9; John 5:29).
He taught that man's good works do not save him, only trust in His shed blood (Matt. 5:20; 26:28; Mark 14:24; John 6:53).
He taught that He is preparing a place in heaven for those who receive Him (John 14:2).
There are 300 prophecies in the Old Testament that foretell of the coming Savior. They were written hundreds of years prior to the birth of Jesus, giving specific details about His life, death, burial, and resurrection. Jesus fulfilled them all. No other religious leader was foretold in future events, and no other fulfilled prophesy. No other religious leader died for us and then rose from the dead as 1 Cor. 15:3-4 states.
This years events have caused us all to rethink and re-evaluate our lives. May we also give thought to things such as, what is our purpose in life? What is our destiny? Why are we here? After all, there is more to life than just what we experience here on earth.
God's will is for every one of us to live with Him forever, along with our loved ones.
2 Peter 3:9 states, He is not willing that any should perish, but that all should come to repentance. His will is not for anyone to go to hell and exist there in torment forever, but Jesus said in Matthew 7:13 that many choose the road to hell.
He left that decision up to us. We can live in bliss, or in torment. It's our choice. Jesus wants us to have life, and have it more abundantly. 1 John 5:12 says, He that has the Son has life, and he that has not the Son of God has not life.
Let us finish this year wisely, and choose life.
© Copyright 2007-2020 Soul Choice Ministries – All Rights Reserved
By Bill Wiese, author of 23 Minutes in Hell