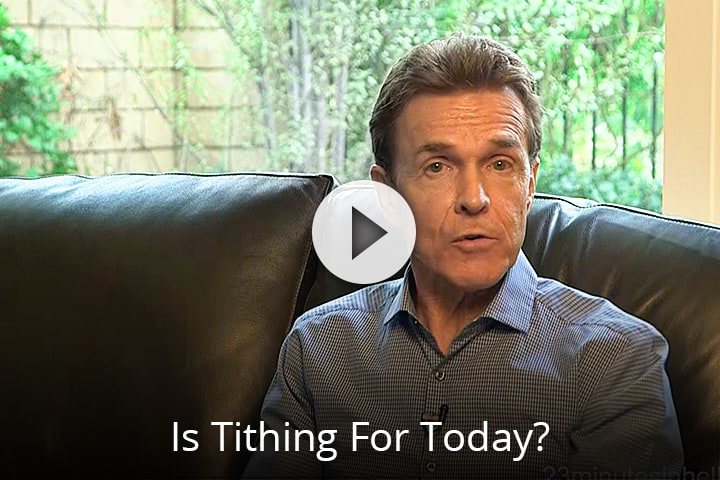 Many people have asked us, is tithing for today? Yes, I believe it is. In Matthew 23:23 and Luke 11:42, Jesus told us we should tithe. In 45 years of being a Christian and consistently tithing, God has never once let me down. Even on a commission job for all these years, where I don't get a check or a salary, I have never had a bill go unpaid. I am not bragging on myself but bragging on the Word of God. This doesn't mean I haven't gone through some challenging times, because I have. We are all learning and we all make mistakes. I can share many stories of God's faithfulness.
On one occasion in particular, I didn't have the money to make my house payment. The payment of $1,800 was due on the first day of the month and it was already near the end of the month. I prayed, "Lord, you never let me down. I don't want a late notice on my credit." While I was sitting at an open house praying, a lady walked in and said, "You're Bill Wiese." I said, "Yes, I am." She said, "I've been looking for you. Five years ago you sold me my home. I remember you cut the commission for me to buy it." I said, "How did you know that? The seller pays the commission, and you're the buyer." She went on to say, "I don't know, I just knew. I don't know how much you saved me but this morning I felt I needed to find you and to give you this money." She was not a Christian. She proceeded to hand me two thousand dollars in cash. Remember my house payment was $1,800, which meant that I had two hundred dollars left over to tithe. God came through just in time.
Another example was a time I was out of food and out of money. All I had was $50 in change. I took the change, bought food and gave it to the poor because God says to give to the poor and you will not lack. I was home the next day praying and I get a knock on the door. It was a neighbor from five doors down whom I had never met before. The neighbor went on to explain that they had just bought $500 worth of groceries the day before, but got called to Europe on business. They didn't want the food to go to waste, so they asked if I would take the food off their hands! It was even healthy, organic food, which is the type of food I eat! I can't tell you how grateful I was for it. I gave $50 and I received $500 worth of food the very next day! God came through again.
Malachi 3:10 says, "God said to prove him, saith the Lord of hosts. If I will not open you the windows of heaven and pour you out a blessing where there's not room enough to receive." This is the only place in the Bible where God tells us to prove Him. He has proven it to me for 45 years. It also goes on to say in that verse, "And I will rebuke the devourer for your sakes." The devourer is the thief, the devil. He wants to steal our finances, destroy our belongings and rob of us our health. Tithing is a protection against these things. The Lord also wants us to tithe to support the church because the church promotes the Gospel. That's part of our responsibility as Christians.
If you're trying to find a way to get out of tithing, there's something wrong with your heart. We should want to tithe our 10%. We have received a better covenant established upon better promises. We shouldn't be looking for ways to get out of giving, we should want to give more! Some people say, "Bill, I just want enough for myself." That's selfish! We need enough money for ourselves and enough to give to those in need and enough to give to the church.
In addition, the Bible talks about tithing in the Old Testament even before the law was given. Cain and Abel tithed, and Abraham tithed to Melchizedek. That was 400 years before the law. Tithing is part of the law, but it was also before the law and after the law. My wife and I have committed to tithing and God has never let us down. If you tithe, God will prove to you that He'll never let you down. Your bills will get paid because God is faithful to keep His Word.
© Copyright 2007-2019 Soul Choice Ministries – All Rights Reserved
By Bill Wiese, author of 23 Minutes in Hell