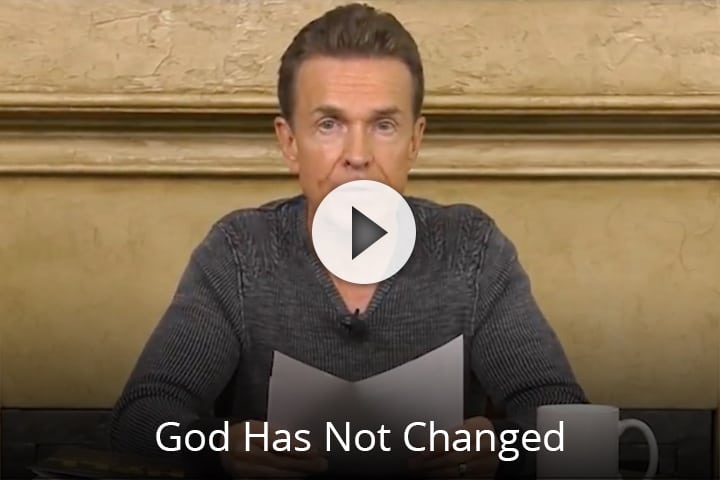 There are many people who think that the God of the Old Testament was mean, harsh, and unloving…not at all like Jesus. But is that true? There are many verses from the Old Testament that clearly show us He is the same God. He's a God that loves.
Jeremiah 3:12-13 says, "Come home to me again, for I am merciful. Only acknowledge your guilt. Admit that you rebelled against the Lord your God." This is God speaking, and this is the New Living Translation.
Jeremiah 5:1 says, "Run up and down every street, says the Lord. Look high and low, search throughout the city. If you can find even one just and honest person, I will not destroy the city." You can see God's heart here.
Jeremiah 8:4-5 says, "When they discover they're on the wrong road, don't they turn back? Then why do these people stay on their self-destructive path? Why do these people refuse to turn back, even though I have warned them?"
Jeremiah 25:4-9 says, "And the Lord has sent unto you all His servants, the prophets, but you have not hearkened. They said, "Turn you again, everyone from his evil way, and dwell in the land that the Lord has given you.' Yet, you have not hearkened unto me, says the Lord, that you might provoke me to anger with the works of your hands to your own hurt."
Jeremiah 26:3, "Perhaps they will listen and turn from their evil ways. Then I will change my mind about the disaster I am ready to pour out on them because of their sin."
Jeremiah 44:4-5, "And again and again, I sent my servants the prophets to plead with them. 'Don't do these horrible things that I hate so much.' But my people would not listen to turn back from their wicked ways.'"
Lamentations 3:33, "For He, God, does not enjoy hurting people or causing them sorrow. The Lord has no pleasure in allowing punishment. The Lord over and over pleads for people to simply turn back to Him, for He delights in showing mercy."
Romans 2:4 says, "Don't you see how wonderfully kind, tolerant, and patient God is with you? Does this mean nothing to you? Can't you see that His kindness is intended to turn you from your sin?"
Psalms 145:8-9, "The Lord is gracious, full of compassion, slow to anger and of great mercy. The Lord is good to all and His tender mercies are over all His work."
And Malachi 3:6 says, "I am the Lord. I change not."
God has not changed. As Hebrews 13:8 says, "Jesus Christ, the same yesterday, today and forever." It's by a lack of knowledge that people do not see the love God has always shown toward man. If we truly understood the nature of God, and His good plans for our lives, we would be overwhelmed by His grace toward us. His greatest expression of love for us was sending Jesus Christ to die for our sins on the cross. There is no greater example of love than this.
Have you been mistaken about who God is?
© Copyright 2007-2018 Soul Choice Ministries – All Rights Reserved
By Bill Wiese, author of 23 Minutes in Hell