Escape From Hell's Prison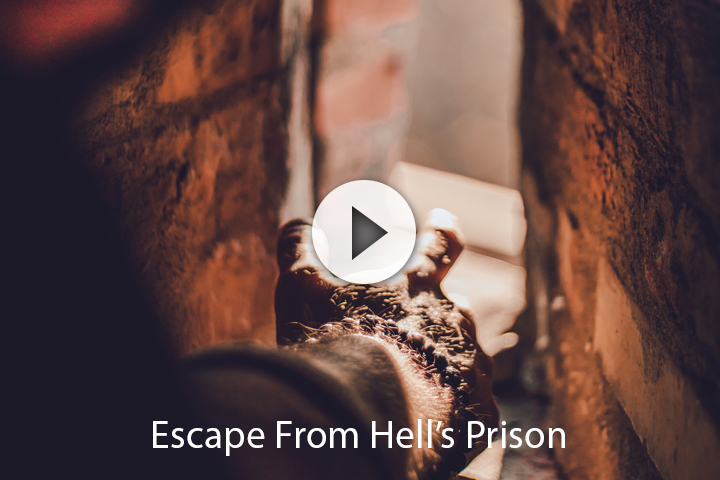 Escape from Hell's Prison
I was speaking at a church when a man stood up and asked to give his testimony. He proceeded to share that he was sentenced to life imprisonment for murder, a crime he didn't commit. He was innocent. He had been in prison for 15 years and had reached a place where he was so depressed he decided he would take his life. He had lost all hope.
Proverbs 13:12, says, "Hope deferred makes the heart sick."
Right before his attempt to kill himself, he noticed my book, 23 Minutes in Hell in the prison library. He read the part where I mentioned the prison cells in hell. The people in those cells were there for all eternity, with no chance of escape. He read where I shared that God loves everyone and will forgive anyone who asks Him. God will save anyone who would trust in Jesus as Lord and Savior. He read the scripture verses that explain if a person does not repent, they will go to that place of torment forever. He decided that day to receive the Lord and invited Him into His heart.
He then read Isaiah 61:1 in the Bible, which says, "He has sent me to bind up the broken hearted, to proclaim liberty to the captives, and the opening of the prison to them that are bound." He decided to trust in that verse, exercise his faith, and believe what God's Word says.
Jeremiah 17:17 says, "Thou art my hope in the day of evil."
Romans 12:12 says, "Rejoicing in hope, patient in tribulation."
He had to be patient during that year and believe God would touch the right person's heart to prove him innocent and open that prison door.
One year later, evidence came forth and revealed that he was innocent. He was released from prison, and just two days later, he stood there in church telling us his story! He told us that he knows he would have gone to hell and been locked up in torment forever if he hadn't read the book and asked God to forgive him. He said he was so thankful he didn't commit suicide, and so thankful to Jesus for saving him. He was a big, strong man, but he wept as he told the whole church his story.
He had to make these decisions in faith first in order to reestablish hope in his life. He had to make the decision to read my book. He had to choose to invite Jesus into his heart. He had to find the verse in Isaiah to believe God for. He had to exercise his faith and then trust God to help him. God is so faithful to honor His word!
God's desire is to help everyone who would call on Him to be saved. It's not His desire that anyone would go to hell. He gives people countless opportunities throughout their lifetime but they reject His invitation over and over again.
How many times has a co-worker, a friend or even a stranger tried to share with you about Jesus Christ? How many times have you ignored them or refused to listen?
How many times have you turned on the TV when someone was preaching the Gospel, and immediately changed the channel?
How many churches have you driven by but never stopped to go in?
How many times has someone has invited you to church, but you refused?
You may have had a grandmother or other relative try to tell you about the way of salvation, but you got up and walked out of the room. 
These Bible verses tell us that there is no hope without Jesus.
Isaiah 38:18 They that go down to the pit cannot hope for thy truth.
Ecclesiastes 9:4 For to him that is joined to all the living there is hope
Job 8:13 So are the paths of all that forget God; and the hypocrites hope shall perish whose hope shall be cut off.
Proverbs 11:7 The hope of unjust men perish.
Ephesians 2:12 Ye were without Christ, having no hope, and without God in this world.
Job 27:8 For what is the hope of the hypocrite, though he has gained, when God takes away his soul…Terrors take hold upon him, a tempest steals him away at night…for God shall cast upon him, and not spare.
Christians have hope!
Psalm 119:81 I hope in thy word.
Proverbs 14:32 The righteous has hope in his death.
Titus 1:2 In hope of eternal life, which God that cannot lie, promised before the world began.
Hebrews 6:19 The hope we have as an anchor to the soul.
1 Peter 1:3 God…has begotten us again unto a lively hope by the resurrection of Jesus Christ from the dead.
1 Timothy 1:1 The Lord Jesus Christ, which is our hope.
Romans 15:13 Now the God of hope fill you with all joy.
Because you are alive, you have hope. God wants to help you no matter how bad you have been, or how terrible your situation. He will help you and save you if you repent and receive Him as your Lord and Savior (Luke 13:3 and Romans 10:9-10). Jesus is the Son of God and He died on the cross for our sins and rose from the dead. He alone can save you.
The man in the prison who considered taking his own life was in a hopeless, desperate place in his life. It took that kind of desperation for him to finally call out on God. Hopefully, you won't wait until a tragedy or crisis hits your life.
I encourage you to make a decision to place your faith and hope in Jesus Christ today.
© Copyright 2007-2021 Soul Choice Ministries – All Rights Reserved
By Bill Wiese, author of 23 Minutes in Hell