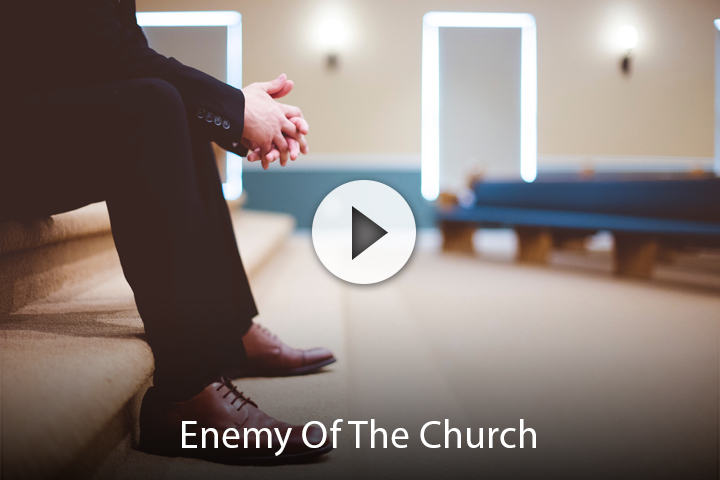 Enemy of The Church
In recent months there has been an alarming rise in the tension and anger among Christians. Believers have placed their political and social opinions above peaceable relationships within the body of Christ. No longer is it the church against the world, but instead it has become the church against the church. Blame, judgment and insult have become ugly, identifying markers of today's Christian. Those who readily participate in the lynching of fellow believers for differing viewpoints, or publicly shame others who disagree with their personal beliefs should be weary of scripture:
For this is the message that you have heard from the beginning, that we should love one another. We should not be like Cain, who was of the evil one and murdered his brother. And why did he murder him? Because his own deeds were evil and his brother's righteous. Do not be surprised, brothers, that the world hates you. We know that we have passed out of death into life, because we love the brothers. Whoever does not love abides in death. Everyone who hates his brother is a murderer, and you know that no murderer has eternal life abiding in him). – 1 John 3:11-15
It's interesting to note that much of the division in the church is rooted in believing that "those other Christians are hateful, intolerant, hypocrites who spew their deceptive ideas". Yet, do the very words you use to describe others, in fact describe you? There is no denying the hateful lining that runs through this kind of speech spewed from the accuser at the accused. We are seeing people who call themselves Christian rejoice in the hardship of others, wish ill-will on fellow believers, and resort to name-calling and profanity. We have even witnessed people voice their desire to see others lose their freedoms or rights. How does one reconcile their identity in Christ while entertaining this kind of evil and darkness in their heart? How does one justify or minimize what the Bible says about judging? You can't.
Judge not, that you be not judged. For with the judgment you pronounce you will be judged, and with the measure you use it will be measured to you. – Matthew 7:1
You are not responsible for your congregation. You are not responsible for the church at large. You are however responsible for the vile hate and arrogance you harbor in your own heart. Continue to have a hand in the destruction of the Body of Christ and you will reap the harvest of what you have sown. You will be considered the enemy of the church.
© Copyright 2007-2021 Soul Choice Ministries – All Rights Reserved
By Bill Wiese, author of 23 Minutes in Hell