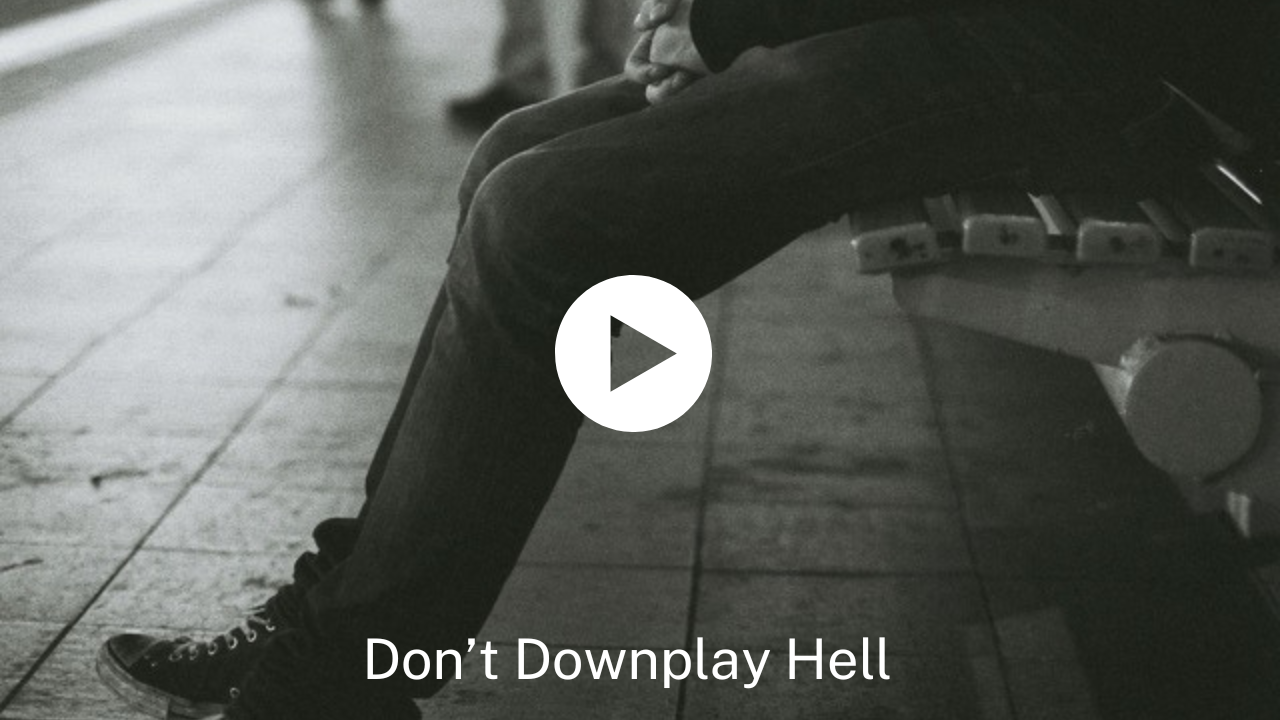 Why do so many people attempt to soften the subject of hell? Why do they try to make it seem less horrifying, less severe, or even non-existent? The main reason is that they cannot reconcile a loving God with a God who would allow such intense suffering. People have actually created a god in their minds who doesn't exist.
The God of the Bible has two very distinct sides. One is an all-loving God, and the other is a God of judgment. God's love dose not override His justice. Our sin must be judged, because He is a God of justice and judgment. Yes, He is a God of love. He proved that by dying in our place on the cross and then arising from the dead. The Scriptures clearly reveal that there will be eternal punishment for the ones who reject Jesus Christ.
The Bible describes what God is like, and what He has said He will do.
Jesus said in Matthew 25:46 "These shall go into everlasting punishment, but the righteous into everlasting life."
There are only two places, and only two groups of people.
Revelation 14:11 says, "He shall be tormented with fire and brimstone, and they have no rest day or night."
Revelation 21:8, "But the cowardly, unbelieving, abominable, murderers, sexually immoral, sorcerers, idolaters, and all liars shall have their part in the lake which burns with fire and brimstone."
Ezekiel 9:10, "My eye will neither spare, nor will I have pity, but I will recompense their deeds on their own head."
Ezekiel 8:18, "Therefore I also will act in fury. My eye will not spare, nor will I have pity; and though they cry in My ears with a loud voice, I will not hear them."
Isaiah 63:3 says, "I will tread them in mine anger, and trample them in my fury."
Zephaniah 1:14-15, "The great day of the Lord is near. The mighty man shall cry there bitterly. That day is a day of wrath, trouble, distress, waste and desolation.
Nahum 1:6, "Who can stand before his indignation and who can abide in the fierceness of his anger; his fury is poured out like fire."
Those are just a few verses that mention God's burning anger against the unsaved…against those who have rejected Him.
This is the God a person will face on Judgment Day if they do not repent and receive Jesus as their Lord and Savior. It's not God decision if a person goes to hell. He left that decision up to us. How arrogant of someone to expect to live at God's house, but insist on entering their way.
Jesus said He is the only way to heaven in John 14:6. He has given us a free will to choose. Free will carries with it responsibility, and there are consequences for our decisions. I urge you to carefully consider what Jesus said and make the right decision.  
Copyright 2007-2022 Soul Choice Ministries – All Rights Reserved
By Bill Wiese, author of 23 Minutes in Hell