Can Evil Things Happen To Christians?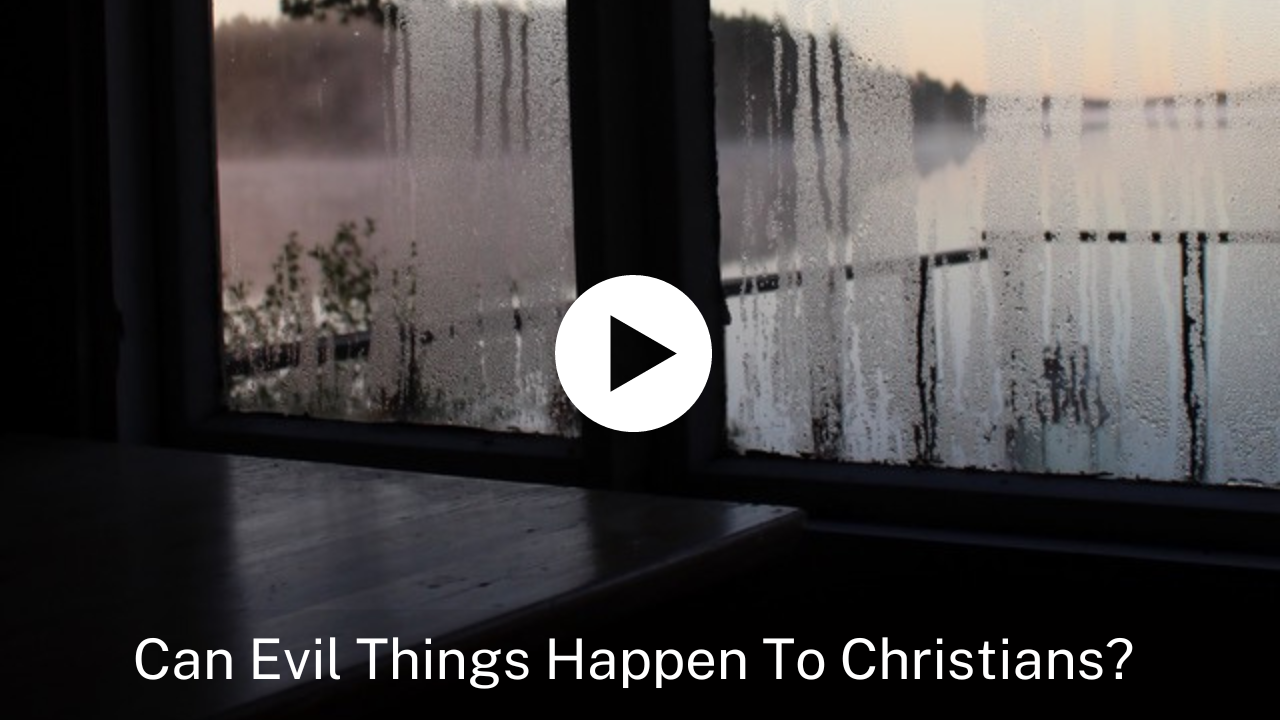 If there is a God, then why does He allow all the suffering, evil, and death in the world? Some people believe that if God really exists, He wouldn't allow it therefore they conclude He must not exist, or He is evil. They are quick to blame God for the evil, but deny He exists in the good times.
In most Christian movies, the atheist asks the Christian, "Why does God allow evil?" The Christian answers, "God is in control and He had a reason to take the person's life, or to allow that sickness or suffering."
Their answer leaves the atheist in confusion. After all, why would a loving God allow such evil? This kind of God is not attractive to the atheist, and understandably so. The answer from the Christian is wrong, and accuses God falsely.
Here are some answers as to why:
2 Corinthians 4:4, "whose minds the god of this age has blinded, who do not believe."
John 10:10, "he thief does not come except to steal, and to kill, and to destroy. I have come that they may have life, and that they may have it more abundantly."
Acts 10:38, "how God anointed Jesus of Nazareth with the Holy Spirit and with power, who went about doing good and healing all who were oppressed by the devil, for God was with Him."
Luke 13:16,"So ought not this woman, being a daughter of Abraham, whom Satan has bound—think of it—for eighteen years, be loosed from this bond on the Sabbath?"
1 John 3:8, "For this purpose the Son of God was manifested, that He might destroy the works of the devil."
Jesus came to die for our sins, and to destroy the works of the devil. Why then isn't the evil stopped, if Jesus came to destroy Satan's works? It's because Jesus taught us what our part is in all of this. He gave us authority over the devil, but we must take that authority and forcefully implement it.
Luke 10:19, "Behold, I give unto you power to tread on serpents and scorpions, and over all the power of the enemy: and nothing shall by any means hurt you."
You ask. How do we do that?
First, the Bible instructs us in James 4:7,"Therefore submit to God. Resist the devil and he will flee from you."
We have to be submitted, which means we obey what the Bible tells us to do. The Bible instructs us how to live. We need to read the Bible and pray daily, and listen to the voice of the Holy Spirit, who dwells in us as the third person of the Trinity. He speaks to us, but we have to spend time praying and listening. The Holy Spirit will tell us to go or not to go places that day. We can avoid an accident, or a tragedy. If we don't listen, we can encounter the evil Satan has planned for us. Satan hates us and he is looking for ways into our life to cause sickness, accidents, or to steal from us. We have an enemy and we are in a spiritual war every day. This is why we are told to put on our spiritual armor in Ephesians 6. This is one of our instructions…our part to do in life.
Next, we must obey God so we don't open the door to the devil. God has placed a hedge about us, but we can open our hedge by our disobedience, or even by our lack of knowledge of God's Word.
Ecclesiastes 10:8, "whoso breaks a hedge, a serpent shall bite him."
Ephesians 4:27, "don't give place to the devil."
We give the devil place when we don't do what the Bible says. So we see that it is not God who brings the evil, it is the devil. It is our job to resist him. Most Christians don't do this. They do not realize that we are in a war, and that they have the authority to stop Satan.
Some have unforgiveness in their heart towards others, not realizing that it will invite the devils attacks. They are left wide open, as their hedge is down.
2 Corinthians 2:10-11, "To whom ye forgive any thing, I forgive also: Lest Satan should get an advantage of us: for we are not ignorant of his devices."
Mark 11:26, "But if ye do not forgive, neither will your Father which is in heaven forgive your trespasses."
Jesus said we must forgive or we won't be forgiven. Some people refuse to repent of some sin they have been holding onto, and it will result in sickness.
John 5:14, "See, you have been made well. Sin no more, lest a worse thing come upon you."
Psalm 107:17, "Fools, because of their transgression, And because of their iniquities, were afflicted."
Psalm 119:67, "Before I was afflicted I went astray, but now I keep Your word."
On the other hand, we may not have missed anything, and it may not be our fault at all. We must remember that we live in a fallen world so we can get hit with one of Satan's fiery darts (Ephesians 6:16). We are simply pointing out that there are things for us to do to help eliminate some of the evil we may encounter. We can't avoid it all. Jesus said that the storms of life will come (Matthew 7:24-27). May we learn to receive instruction and correction from God's Word and avoid as much evil as possible.
There are many other verses that explain why natural disasters occur. Research the Bible to understand more. In doing so, you will stop blaming God for the devils work, or your own lack of knowledge, or your own disobedience. Let's instead thank Him for the authority He has placed in us to help stop the evil.
Copyright 2007-2023 Soul Choice Ministries – All Rights Reserved
By Bill Wiese, author of 23 Minutes in Hell