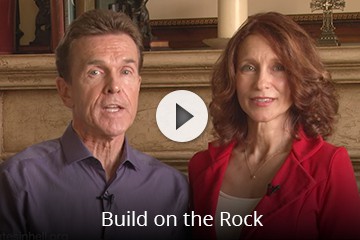 Matthew 7:24-27 (NKJV)
Jesus speaking…
"Therefore whoever hears these sayings of Mine and does them, I will liken him to a wise man who built his house on the rock: and the rain descended, the floods came, and the winds blew and beat on that house, and it did not fall, for it was founded on the rock. But everyone who hears these sayings of Mine, and does not do them, will be like a foolish man who built his house on the sand: and the rain descended, the floods came, and the winds blew and beat on that house; and it fell. And great was its fall."
We all encounter storms on our journey through life. God may deliver us out of the storm or we may have to go through the storm. However, the condition of our life AFTER the storm depends upon what we choose to initiate on a regular basis. We can either choose to spend time with the Lord (reading His Word, praying, listening) or we can ignore Him.
There are plenty of distractions each day that cause us to neglect our relationship with our Creator. Every time the Holy Spirit prompts us with an instruction (i.e. forgive so-and-so, apologize for being rude, offer your time to help that person, etc.) we have an opportunity to build our life on the rock (God's Word).
Both people heard Jesus' words and both went through the same storm. The difference was obedience vs. disobedience to God's word. Our daily decisions to put email, social media, entertainment, work or even ministry ABOVE spending time with Him can result in a life unable to weather the storm. It's not about duty or ritual, it's about the most important relationship in our life.
© Copyright 2007-2022 Soul Choice Ministries – All Rights Reserved
By Bill Wiese, author of 23 Minutes in Hell