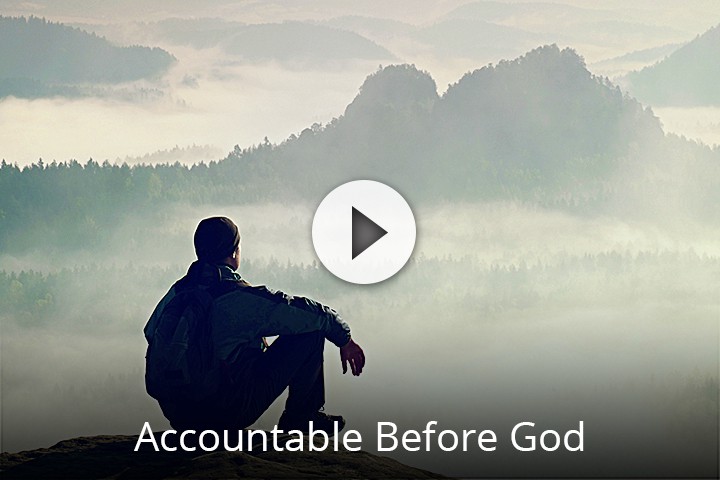 Many people have asked us, "What will happen to the man who lives in the remotest part of the jungle? Will he be accountable for not knowing about Jesus? The answer to that question is, yes. We know that God is trying to get a hold of that person for at least five reasons:
The first is found in Romans chapter one. It tells us that God is evident in creation and that God holds man accountable because of creation. The evidence of design is everywhere. Just look at the human body, the animal kingdom, plant life or even a baby being born. There is also the universe. God's design is everywhere. That points to a designer. If that man in the jungle will look to the heavens and say, "There must be a God. I want to get to know this God," and he cries out in humility, then God will find a way to get through to that man and reveal Jesus Christ to him.
Second, God gives man a conscience to know right from wrong, Romans 2:15 and John 8:9 explain that man has been given a conscience. Our conscience tells us there is a God and that we need a savior. Ecclesiastes 3:11 mentions that eternity is written on man's heart. Man knows that he will live forever. He knows he needs to be forgiven of his sin.
The third reason is that God has given man the Bible, His written word. We were both in real estate and you always look for things in writing. God gave it to us in writing. He told us very clearly how to stay out of hell and how to get to heaven. Man just needs to read the Bible. There are bibles everywhere so that man can get a hold of one.
The fourth way is missionaries, CDs, television, the internet and people that travel all around the world getting through to sharing about Jesus. He'll send a missionary to that person in Africa or wherever they may live.
We know of a friend and her husband who took half a dozen men to a remote village in Northern Burma. They went to a village where the people had never heard about Jesus. When they arrived, one of the leaders of the tribe said, "So you've come to tell us about the Savior and the golden book?" How did they even know about a savior and the golden book (the Bible) unless God somehow revealed Himself to them. He may have given them a dream or a vision. If one is seeking God, He will send a person on their path. It doesn't matter where on the earth they are.
Lastly, there is a scripture in Job 33 that says God give man dreams and visions to keep back his soul from the pit. This is the fifth way God reaches man. All through the Bible it says God is fair and just. No one will be there unjustly because we serve a god that's fair and just.
Deuteronomy 32:4 says this perfectly. It says, "He is the rock. His work is perfect. Everything he does is just and fair. He is a faithful God who does no wrong how just and upright he is." Also in Exodus 34:6-7, it says, "The Lord, the Lord God merciful and gracious, long suffering and abundant in goodness and truth." Everything God does is perfect and just and right. If we reject life and the Bible says, "God is life," then all that remains is death for us. There's no other place for our soul to go if we reject the only way to heaven. There's no place left for our soul to go. Our soul is eternal. It'll live in either heaven or hell for eternity.
Some say, "What kind of God would be so mean to let people suffer in hell?" Remember, it's the same God that came and died a horrible death on the Cross to keep us out. What more would we expect him to do? People make their own mind up and then accuse God of being mean. It's not His decision.
There are some people who suffer from the consequences of being in religion. Religion is a form of bondage, making people angry because it's restrictive. It leads people to believe that they have to do certain things to earn God's approval. When the topic of hell comes up, there is great resistance because they were in an environment that may have been demanding or oppressive. They may have even experienced an earthly father who abandoned them, rejected them or hurt them, giving them a perverted or twisted view of God because of personal hurt and disappointment. There may be underlying anger in a lot of people that are broken and hurting out there, and God wants to heal that up.
We serve a loving God and he desperately wants to keep every person out of hell. He gives man the free will to choose where you will spend the afterlife. Do you believe him or not? Revelation 20:15 says, "Whosoever was not found written in the book of life was cast into the lake of fire." He has a book and on judgment day he's going to open that book to see if our name is in there. The worst thing anybody could ever hear would be, "Your name is not in my book. Depart from me into everlasting fire prepared for the devil and his angels." God would weep saying those words. He doesn't want anyone to go there.
He never meant for man to go to hell. Hell was prepared for the devil, not for man.
My question for you today is do you know if your name is written in his book?
© Copyright 2007-2020 Soul Choice Ministries – All Rights Reserved
By Bill Wiese, author of 23 Minutes in Hell