Help us reach more souls and change lives today!
We make a difference by working together.
The purpose and heart of Soul Choice Ministries is to reach the lost and strengthen believers everywhere. We continue to share the message of 23 Minutes in Hell through meetings, conferences, TV and radio interviews, video, printed and audio resources, and social media. This would not be possible without your prayers and faithful giving.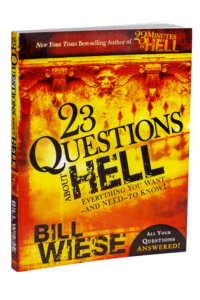 In thanks for your donation, you will receive a FREE copy of the book, 23 Questions About Hell. We want you to be equipped to answer the tough questions people ask about this important topic. Your gift enables us to further the message of 23 Minutes in Hell, reaching the lost with the truth about hell and eternity.
We are making an eternal difference for the Kingdom because of generous supporters like you!
We strive to steward your gift well, so thank you for your trust and support.
*Please be advised that shipping for the FREE book with donation will be temporarily delayed 4-6 weeks. However, all product orders will be shipped without delay. Thank you for your patience as we work to adhere to social distancing protocol and protect the most vulnerable.
Choose your gift amount today.
Soul Choice Ministries is a non-profit 501(3) organization. Your donation is tax-deductible as allowed by law.
© 2018 Soul Choice Ministries