10th Anniversary Edition of 23 Minutes in Hell with Exclusive New Content Included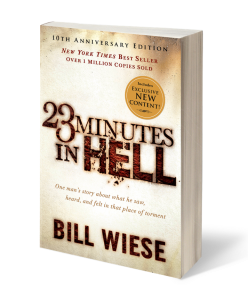 It's Here! The 10th Anniversary Edition of 23 Minutes in Hell with Exclusive New Content Included!
Thousands of people have committed their lives to Christ because of the message of 23 Minutes in Hell. God has used this book to arrest people's hearts and cause them to contemplate the gravity of their choice regarding eternity. We have received hundreds of letters from people over the years who have used this book as a witnessing tool and seen the power of the Holy Spirit change hearts!
"I was one of those people! Never read the Bible…but I did buy this book for some odd reason and God used it to save me! I believe God sent this man to hell to come back and tell about it for stubborn people like myself who wouldn't find it in the Bible that I was not reading. I got saved after I read 23 Minutes in Hell and I'm extremely grateful." – Marisa P.
"I wanted to let you know what a blessing your book was to my mom. My mom was a member of scientology for over 35 years. I became a Christian at 50 years old and sent her a copy of your book. At the age of 94 she became a Christian. We know God was the reason; your book sure helped! Thank you." – John B.
"Bill's "23 Minutes in Hell" experience is the best witnessing and salvation message on the planet. If you have a loved one who is not saved, give them this book. People die every minute without repentance of their sins and without Christ as their Lord and Savior. If you don't know where you will go if you die tonight you need to read Bill's book. Heaven is for real and so is Hell." – Phil C.

When Bill experienced 23 Minutes in Hell, the message Jesus spoke to him was, "Go and tell them about this place. It is not My desire that any should go there." Bill said, "Why would anyone believe me? They'll think I had a bad dream or I'm crazy." The Lord responded with, "It is not your job to convict their hearts. That responsibility belongs to the Holy Spirit. It is your job to go and tell them."
On another occasion Jesus told Bill, "Many of My people make excuses why they don't witness. They say, 'I didn't feel led.'" Haven't we all used this excuse?
In honor of the 10 Year Anniversary of 23 Minutes in Hell, our publisher has released a Special Edition of this powerful testimony with added Exclusive New Content.
Help us to get this powerful message into the hands of the unsaved. There are still so many who give no thought to their eternity and do not know the truth about hell. Take advantage of this opportunity and share Bill's life-changing experience with someone today!   
Now available in our store: Special 10th Anniversary Edition of 23 Minutes in Hell