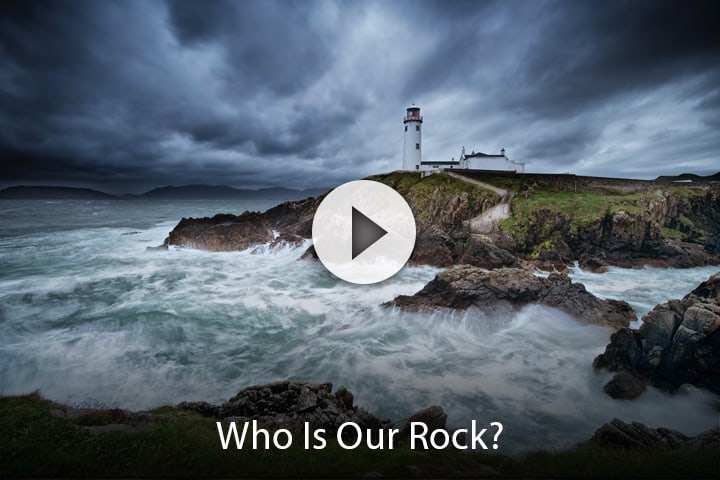 Our lives are either built on sand, or built on the rock.
If we do not learn how to stand on God's word, and be a doer of His word, we will not succeed in this life. We will be defeated, broke, sick, and depressed.
Matthew 7:24 says, Therefore whosoever heareth these sayings of mine and doeth them, I will liken him unto a wise man , which built his house upon a rock. And the rain descended , and the floods came, and the winds blew, and beat upon that house, and it fell not, for it was founded upon a rock. And everyone that heareth these sayings of mine, and doeth them not, shall be likened unto a foolish man, which built his house upon the sand: And the rain descended, and the floods came, and the winds blew, and beat upon that house, and it fell: and great was the fall of it.
The devil is looking for ways to destroy our lives. The only way he will flee from us is when we quote the word to him, as Jesus did in Matthew 4:4,6,7.
The most important things we can learn to identify are:
What things are an attack from the devil
What things are a test from God?
What things are from our own disobedience or lack of knowledge?
These verses make it clear what things are from the devil:
John 10:10 The thief does not come except to steal, and to kill, and to destroy. I have come that they may have life, and that they may have it more abundantly.
Luke 9:56 For the Son of man is not come to destroy men's lives, but to save them.
Acts 10:38 How God anointed Jesus of Nazareth with the Holy Spirit and with power, who went about doing good and healing all who were oppressed by the devil, for God was with Him.
1 Cor. 5:5 to deliver such a one to Satan for the destruction of the flesh, that his spirit may be saved in the day of the Lord Jesus.
1 John 3:8 For this purpose the Son of God was manifested, that He might destroy the works of the devil.
2 Cor. 4:4 In whom the god of this world has blinded the minds of them that believe not.
Here are some requirements for being a Christian who is built on the rock:
In Psalm 119:11 David said, "Thy word have I hid in mine heart, that I might not sin against thee."
The more word we get in our heart, the less we will sin. We are to grow and mature to the point where we hate every false way, as David did (Ps. 119:104, 113, 128).
Make a decision to change. Choose to be committed.
Psalm 119:30 For I have chosen the way of truth.
46 I will speak of thy testimonies.
52 I remembered thy judgments.
62 I will arise to give thanks.
72 I have hoped in thy word.
78 I will meditate in thy precepts.
101 I have refrained my feet from every evil way.
104 I hate every false way.
112 I have inclined my heart to perform thy statutes.
113 I hate vain thoughts.
128 I esteem all thy precepts concerning all things to be right.
145 I cried with my whole heart.
173 I have chosen thy precepts.
Deuteronomy 30:19 I call heaven and earth to record this day against you, that I have set before you life and death, blessing and cursing: therefore choose life, that both thou and thy seed may live.
Avoid sin:
Hebrews 3:13 so that none of you will be deceived by sin and hardened against God.
James 1:22 But be doers of the word, and not hearers only, deceiving yourselves.
James 1:14-15 But each one is tempted when he is drawn away by his own desires and enticed. Then, when desire has conceived, it gives birth to sin; and sin, when it is full-grown, brings forth death.
Sin hardens our heart.
Hebrews 3:13 so that none of you will be deceived by sin and hardened against God.
Hebrews 3:8 Do not harden your hearts as in the rebellion
Proverbs 29:1 He who is often rebuked, and hardens his neck, Will suddenly be destroyed, and that without remedy. Sinning by refusing to receive correction given numerous times.
Acts 19:9 But when some were hardened and did not believe…Unbelief hardens our hearts.
Sin hurts our faith and we have no confidence to pray.
1 John 3:21-22 Beloved, if our heart does not condemn us, we have confidence toward God. And whatever we ask we receive from Him, because we keep His commandments and do those things that are pleasing in His sight.
Hebrews 4:16 Let us therefore come boldly to the throne of grace, that we may obtain mercy and find grace to help in time of need.
If sin wasn't dangerous – why all the warnings and instruction?
Ephesians 4:27 Give no place to the devil. Holding onto anger with wrath.
Romans 12:1 Present your bodies a living sacrifice, holy, acceptable unto God, which is your reasonable service.
Romans 6:11-12 Likewise you also, reckon yourselves to be dead indeed to sin, but alive to God in Christ Jesus our Lord. Let not sin therefore reign in your mortal body (don't allow).
Romans 6:6 I should not serve sin.
1 Peter 2:11 abstain from fleshly lusts, which war against the soul. We must say no!
Romans 8:13 For if ye live after the flesh, ye shall die: but if ye through the Spirit do mortify the deeds of the body, ye shall live.
Matthew 15:19 For out of the heart proceed evil thoughts, murders, adulteries, fornications, thefts, false witness, blasphemies: these are things that defile a man.
Proverbs 4:23 Keep thy heart with all diligence; for out of it are the issues of life.
Proverbs 4:23 Guard your heart above all else, for it determines the course of your life.
How does a person know they are saved?
1 John 2:3 And by this we may be sure that we know him, if we keep his commandments. Love
1 John 3:14 We know that we have passed from death to life because we love the brethren.
1 John 4:12 If we love one another, God dwelleth in us.
John 14:15 If you love me, keep my commandments.
Luke 8:21 My mother and my brethren are these which hear the Word of God and do it.
1 John 3:22 This is His commandment; that we should believe on the name of His Son Jesus Christ, and love one another.
© Copyright 2007-2020 Soul Choice Ministries – All Rights Reserved
By Bill Wiese, author of 23 Minutes in Hell